E-court
Pilot project E-court
In accordance with the order of the SJA of Ukraine dated 22.12.2018 № 628 "On testing the subsystem" E-сourt " in local and appellate courts", on December 22, 2018 in all local and appellate courts began operation of the subsystem "E-сourt" in test mode.
Legal issues of functioning of the subsystem "Electronic Court" are regulated in Section XI of the Regulations on the automated document management system of the court, approved by the decision of the Council of Judges of Ukraine from 26.11.2010 № 30 (as amended - the decision of the Council of Judges of Ukraine from 02.03.2018 №17).
The exchange of electronic documents between the court, the judiciary, individuals and participants in the trial is provided by the electronic court subsystem.
Participants in court proceedings may send copies of electronic documents to other participants in court proceedings with the help of a registered electronic cabinet, except in cases when another participant does not have a registered electronic cabinet; to file claims and other procedural documents provided by law, which are submitted to the court and may be the subject of court proceedings, as well as to receive court decisions and other electronic documents.
Also, with the help of a registered electronic cabinet, projects are created (by filling in the appropriate forms, edited, attached), electronic inquiries, complaints, proposals and other non-procedural appeals concerning the activities of such bodies are signed and submitted, and responses are received.

Thus, the submission of procedural documents to the court in electronic form is carried out with the help of the Electronic Cabinet. In order to be able to use the E-court service, it is necessary to go through the procedure of registration of the official e-mail address (Electronic cabinet) provided by the subsystem with the obligatory use of your own electronic digital signature.
You can register in the subsystem by the link https://id.court.gov.ua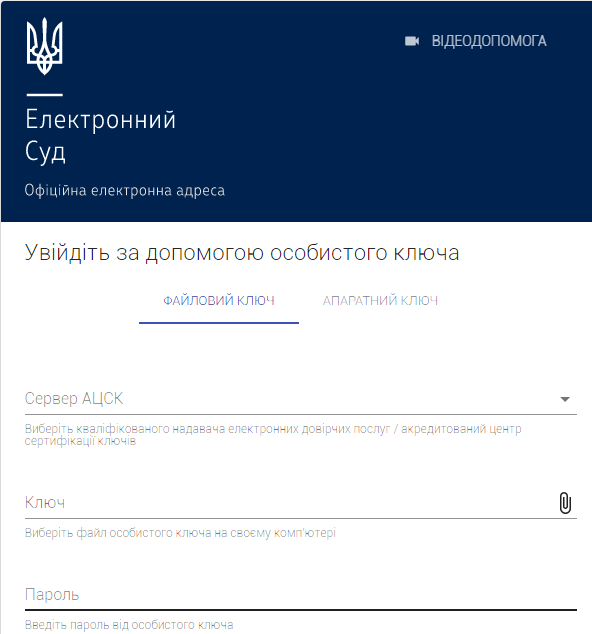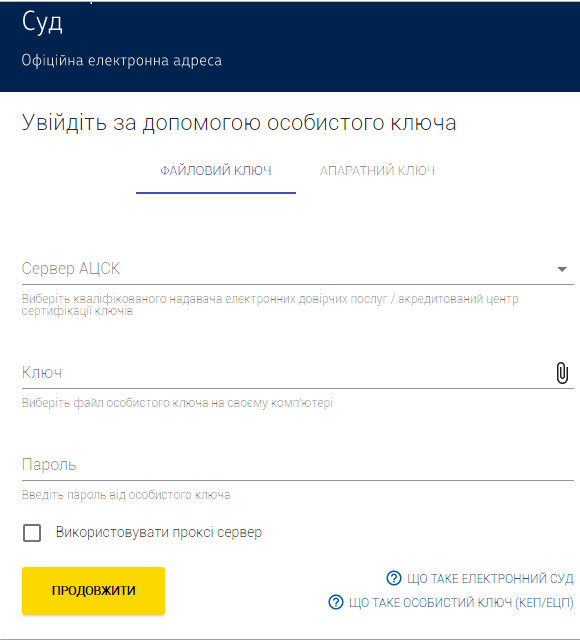 Before you start registering, we recommend to review the video instructions ("Video Help") with a step-by-step algorithm.
Also in his electronic cabinet, the party to the case may pay court fees and other payments online, as well as form and provide an electronic power of attorney to another person.